Via Lingua Teacher Training Program
Via Lingua Teacher Training Program
VIA LINGUA TEFL CERTIFICATE COURSE
The ALC Marrakesh now offers the Via Lingua teacher training program for English as a Foreign Language.Via Lingua is one of the most practical global TEFL course providers. Via Lingua TEFL certificate courses are internationally recognized and externally moderated.
Via Lingua is one of the world's largest and most well established TEFL certification providers. With offices and branches in several countries worldwide and its extensive network of international contacts, Via Lingua is able to help graduates secure jobs in their chosen destination after completing the course.

Via Lingua Reviews ! 

Course Structure and Content
over 120 hours of training
a combination of workshops, seminars and demonstrations,
8 hours of assessed teaching practice,
an internationally recognized and approved program, focusing on five key aspects of successful language teaching:

Pedagogy theory
Language awareness
Teaching skills
Life skills
Cultural awareness
Brochure
You can download our Via Lingua brochure here.
Testimonials

"This is an excellent course and I highly recommend it. It is intensive and requires a lot of self study as well as the long days of study and TP, but the trainers make it very enjoyable. The quality of the training is as good as any I have received over two careers and the support you receive is outstanding. In 28 days I learned so much and feel more than confident to now lead an EFL class." - Annabella Z., Marrakesh
 "It has the power of turning absolute beginners into confident teachers, I would definitely recommend it." - Maryame A., Rabat
 "There is no doubt that my philosophy of teaching changed after this course." - Hassan E., Marrakesh
 "Before even finishing my Via Lingua course, I had recommended it to the dearest person in my life: my daughter, and then I talked about it to my colleagues" - Driss A., Casablanca
 "I recommend this Via Lingua to anyone who wants to reflect on the way he/she teaches in order to improve his/her teaching skills." -Abdellah L., Agadir
 "Via Lingua is highly developed, very detailed and offers useful professional guidance.Via Lingua mentors are sympathetic and very helpful. I recommend the VL experience for anyone planning on teaching English as a career." - Miloud A., Marrakesh

"I am no longer afraid to teach. Quite the opposite, I'm starting to enjoy it.  That element of stage fright that basically tore me apart and sabotaged me inside-out, is now "gone with the wind".  I have changed. My whole personality has changed. I can feel it and you know what, it feels incredible. I've been waiting so long for a change like this. It makes everything we've been through all worth it." - 

Mehdi J., Marrakesh




Download a booklet about the VL experience.
Dates and Fees

July 1st - July 30th, 2021

September 7th - October 7th,2021

October 18th - December 18th, 2021

January 20th - March 20th, 2022

April 16th- June 25th, 2022

July 1st - July 30th, 2022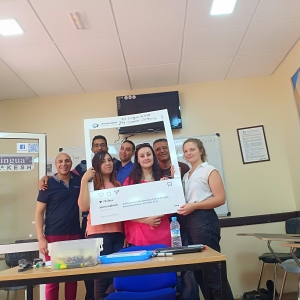 (*Part-time courses meet three times a week: 2 evenings + all day Saturdays) 
Course fee: EUR 1,450 (non-Moroccans), EUR 1,300 (Moroccans)
Accommodation: Homestay (2 meals per day) EUR 440. Assistance with finding a furnished apartment (prices range from EUR 300 to 500)
Download our price guide here.
Requirements
Trainees must be at least 21 years of age.

Trainees must be either native speakers of English or non-native speakers with a proficient level of English.

All applicants will be asked to write a 500-word essay on a teaching related topic.

Non-native speakers of English must be available for a 20 to 30-minute face-to-face or telephone (skype) interview.

Trainees must have a first degree (college or university degree).

The deadline of application is one week before the beginning of the actual course. It is at the discretion of the program coordinator to decide whether or not to accept late applications.
Application
To apply, please download our application form (click here), fill it in and send it back to vialinguamarrakesh@gmail.com
Contact
If you have any questions, please contact Omar, our Program Coordinator, at vialinguamarrakesh@gmail.com.
Follow us
For the latest news and updates, including pictures of past and current sessions, follow us on Facebook at: 
www.facebook.com/TEFLMarrakesh
Meet our trainers
Omar Dine- Coordinator / Head Trainer
 After working at the American Language Center in Marrakesh for thirteen years, Omar Dine took a sabbatical leave to teach ESL in Montreal Canada in 2015-2016. He resumed work at the ALC Marrakesh as a Via Lingua coordinator/ Teacher-Trainer in late 2016. Omar Dine has a Masters' Degree in TESOL from Shenandoah University in Winchester Virginia. He Joined the Via Lingua team as a teacher-trainer in 2013 and led sessions in Syllabus design, Curriculum development, Language Teaching Materials, Phonetics, and Language Teaching Methods.
Omar Dine has considerable experience working with all levels, ranging from young learners to adults. He is also well versed in designing and implementing communicative, interactive and need-based lesson plans.  As a veteran teacher at the American Language Center of Marrakech he has been actively involved in curriculum design, teacher-training and professional development workshops. Omar Dine is also a Cartoonist. His art was staged in February 2013 at the All-American Language Centers' Conference hall.  The art show was entitled Smile in Reminiscence and featured the EFL teacher's day-to-day classroom qualms and joys. 
Abderrahman Sidi Hida – Trainer
Abderrahman has been working at the ALC as an EFL teacher for fifteen years. He has a Master's Degree in Linguistics with a concentration in TEFL. In 2005, he attended the TESOL conference in Texas. Since then, Abderrahman has been giving several workshops and presentations both at the ALC and at the TEFL ALL-ALCs Conferences in Morocco. Over the past fifteen years, Abderrahman has successfully taught a wide variety of levels and age groups in the ALC program. In addition to the assigned teaching hours, he has been involved in designing and reviewing exams, as well as mentoring new teachers and piloting textbooks. In 2006 and 2007, he  taught survival Arabic to UGA students and visiting teachers at the ALC. He participated in an ESP Program in which he was in charge of designing lessons and materials to teach a Moroccan Airliner cabin crew as well as doctors at Ibn Toufail Hospital. He currently conducts teachers' book discussions on TEFL issues. He is currenlty the Master teacher and a Via Lingua Trainer at the ALC Marrakesh.
Hicham El Moussakkal - Trainer
A holder of a Bachelor of Arts degree from the Caddy Ayyad University in Marrakech and a Master of Business Administration (MBA) with a concentration in Human Resources from the University of Phoenix in Boston, Hicham started teaching at the ALC Marrakech in 1997. While in the US, he taught English as a foreign language and some basic education courses at some schools in Boston. He also taught some English credit courses at college level. In addition to teaching, and while living in the US, Hicham occupied various hospitality jobs and won various industry awards namely the" Manager of the Year" and the "Ten Year Anniversary Awards". Hicham has presented at many ESL workshops and conferences, and has taught English for specific purposes, namely business English, at various management institutions.
Abdelghani Jouay - Trainer

After he received a Master's degree in literature (M.Litt.) from Strathclyde University (Glasgow) in 1981, Abdelghani joined the English department at Cadi Ayyad University (Marrakech), where he has been working as an Assistant-professor ever since. Although he started learning to teach on the job, and as a dynamic and motivated EFL teacher, he later forged and sharpened his skills thanks to his wide experience in various schools (ALC, Sup de Co, ENCG..). In addition to his tasks as a university teacher, Abdelghani enjoys working with a variety of levels, age groups and profiles. He was an ex-Chairman of the English department at the Faculty of Letters & Humanities, and was selected twice as a Visiting Professor to both Duke University (Durham, NC) and Elmhurst College ((Chicago, Ill.). He contributed to and attended many conferences, colloquia and academic events nationwide. Abdelghani published a number of literary articles in the Faculty magazine and recently translated a 180-page-guide to shopping in Marrakech (2013).
Said Chafi - Trainer
Earned a Master of Communication Studies from the Caddy Ayyad University. He is currently finishing his PhD thesis. His research probes the nexus of national culture and pedagogical practice in Moroccan classroom. Generally, his research interests include: language acquisition, classroom interaction and classroom discourse analysis from a socio-cultural lens. Said has published a number of articles on educational and pedagogical issues in different international journals. In 2004 Said received his TEFL certificate, graduating as valedictorian from ENS, Rabat. Over the past twelve years,he has been working at the ALC as an EFL teacher.  He also taught organizational communication at the Faculty of Law in 2011. Said has attended and given presentations at many EFL workshops, seminars and conferences. He has gained extensive experience working with different levels and age groups.
Shaheena Kauser -Young Learners Trainer
Shaheena Kauser is from the city of Manchester, England.  She's an EFL teacher and is the Children's Program Coordinator at the American Language Center and has been for the last twelve years.  During her time at the ALC, she has presented workshops demonstrating the teaching methodologies and pedagogy in childhood education.  
Shaheena has an Honors Degree in Bachelor of Education in Primary from the University of Birmingham, England.  She was an assistant headteacher and a team coordinator in a primary school for ten years in the UK.  She was also the head of the English department as well as teaching all the curriculum subjects to students from five to eleven years old.  
She also holds a BTEC National Diploma in pre-school education and has experience working with three and four years old. With twenty-three years of management and teaching experience with young learners, Shaheena continues to love teaching children, seeing them learn, develop and grow is one of her most rewarding experiences as a teacher.  This is where her passion lies in educating and nurturing children who have extraordinary young minds in achieving their full potential..
Terms and conditions
Application deadline
The deadline for the application is 21 business days before the beginning of the course. It is at the discretion of the course director whether or not to accept late applications.
Payment deadline
Sixty percent of the full program fee, which includes the registration fee (275 € / 3,000 MAD), must be paid at least 21 business days prior to arrival or the course organizer preserves the right to cancel the trainee's registration. The rest of the course fee can be paid at the Via Lingua Marrakech center on the first day of the course.
Program cancellation
The course provider reserves the right to cancel the course 14 business days before the course starts. Applicants may decide to be replaced to a later course date or are eligible for a full refund of any fees paid to the course provider.
Cancellation of participation
All participation cancellations received in writing at least 21 business days prior to course commencement are eligible for a full monetary refund.
The Registration fee (275 € / 3,000 MAD) is non-refundable if participation is cancelled later than 21 business days prior to course commencement but may be applied to future courses in the same calendar year.
If cancellation is received less than 21 business days prior to course commencement, or if the trainee fails to arrive at the start date, tuition fee is not monetarily refundable but tuition credit may be applied. Course fee credit is valid for one calendar year.
After classes begin, no monetary refunds will be made.